Those Marvelous Edwardian Hats!
Hats were a big deal in the Edwardian era, often to the detriment of our innocent feathered friends. In a scene from my historical novel, The Beauty Doctor, a well-to-do woman appears at the office of beauty doctor Franklin Rome wearing a wide hat "on which several stuffed hummingbirds nested among an elaborate decoration of silk flowers, chiffon, and ribbon." Another hat in my story is described as "fashioned of blue felt, draped with black chiffon, and decorated with huge red silk rosettes and bird-of-paradise plumes."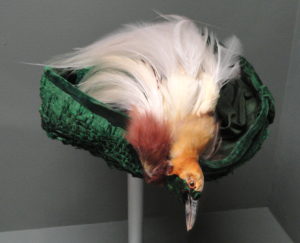 This photograph of an Edwardian bird hat (Pacific Grove Museum of Natural History) pulls at my heartstrings, but such a hat undoubtedly would have been worn with pride by some fashionable lady of the period in which my novel takes place.
You've probably heard of the "Merry Widow hat" that was all the rage in the Edwardian period. It made its debut on the head of actress Lily Elsie who, in 1907, starred in the English version of the operetta The Merry Widow, about a wealthy widow whose countrymen wish to keep her money in their small nation and, to do so,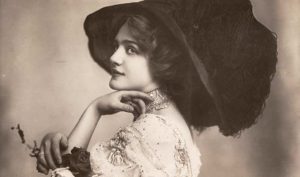 attempt to find her a suitable husband. The plumed hat that Miss Elsie wore in her role became an instant sensation. The hat was fashioned of black crinoline with a silver band around the crown and two roses tucked under the brim. Merry Widow hats sometimes sported brims as wide as 18 inches and might well be crowned with whole stuffed birds.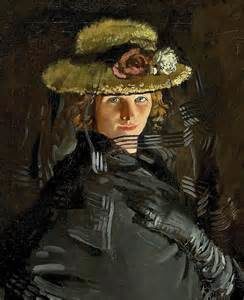 But not all Edwardian era hats were so over-the-top. Take the lovely creation on the cover of The Beauty Doctor. Edwardian it is, but so understated!
Sign up now to receive my blog posts.
Buy my historical thriller, The Beauty Doctor, finalist for the 2018 Eric Hoffer Book Award, 2017 AZ Literary Awards, and a 5-star pick by Readers' Favorite!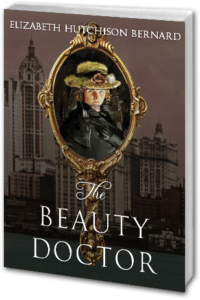 In the spring of 1907, Abigail Platford finds herself unexpectedly adrift in New York City. Penniless and full of self-doubt, she has abandoned her dream of someday attending medical school and becoming a doctor like her late father. Instead, she takes a minor position in the office of Dr. Franklin Rome, hoping at least to maintain contact with the world of medicine that fascinates her. She soon learns that the handsome and sophisticated Dr. Rome is one of a rare new breed of so-called beauty doctors who chisel noses, pin back ears, trim eyelids and inject wrinkles with paraffin. At first skeptical, she begins to open her mind, and then her heart, to Dr. Rome. But when his partnership with an eccentric collector of human oddities raises troubling questions, Abigail becomes ensnared in a web of treachery that challenges her most cherished beliefs about a doctor's sacred duty and threatens to destroy all she loves.