About the Cover of The Beauty Doctor
A number of people have asked about the portrait on the cover of my first work of historical fiction, The Beauty Doctor. When I discovered this painting, I knew immediately that this young woman was my Abigail! But, of course, she was someone else first.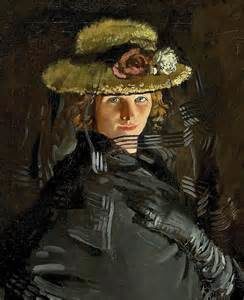 The painting was created in 1907, which happens to be the same year in which the action of The Beauty Doctor takes place. The artist is Sir William Orpen (1878-1931), one of Ireland's best known artists of the 20th century, and the subject of this magnificent portrait is his first wife, Grace Knewstub. They married in London in August 1901. Portrait of Grace was painted during a seaside holiday and Grace's elaborate costume is particularly notable for the wonderful Edwardian hat decorated with either roses or peonies (hard to tell which) and a chiffon veil. (Source) Since my story takes place primarily in New York's warmer months, I used this rather heavier cape as Abigail's motoring outfit, with the veil not only serving to shield her face from dust but also to secure her hat in the open vehicle. Orpen painted several other portraits of Grace, all of which are ravishingly beautiful, and his entire works are really worth taking a look at. To learn more about the artist, and to see some (not nearly all) of his works, you can visit www.sirwilliamorpen.com.
Sign up now to receive my blog posts.
Buy my historical mystery/suspense novel, The Beauty Doctor!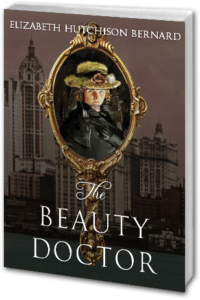 In the spring of 1907, Abigail Platford finds herself unexpectedly adrift in New York City. Penniless and full of self-doubt, she has abandoned her dream of someday attending medical school and becoming a doctor like her late father. Instead, she takes a minor position in the office of Dr. Franklin Rome, hoping at least to maintain contact with the world of medicine that fascinates her. She soon learns that the handsome and sophisticated Dr. Rome is one of a rare new breed of so-called beauty doctors who chisel noses, pin back ears, trim eyelids and inject wrinkles with paraffin. At first skeptical, she begins to open her mind, and then her heart, to Dr. Rome. But when his partnership with an eccentric collector of human oddities raises troubling questions, Abigail becomes ensnared in a web of treachery that challenges her most cherished beliefs about a doctor's sacred duty and threatens to destroy all she loves.