Authors of a Favorite Era
As an author of historical fiction, I love to read the work of other contemporary writers of historical novels—particularly those who have set their story in the Victorian or Edwardian eras, which happen to be my favorites. But I have found it perhaps even more enlightening to read the work of writers who actually lived in those eras.
One of my favorite writers of another age is Edith Wharton.  The House of Mirth, though perhaps not as well-known as her book The Age of Innocence, is a stunning novel.  It was published in 1905, and the story takes place in the Victorian era, so the author is looking back a few years.  But what better way to absorb the true flavor of an era than to read an author who lives and breathes it! And how can you beat passages like this, from The House of Mirth, inside the head of the desperate social climber, Lily Bart, who despises her lack of wealth yet can't quite reconcile herself to what she must do in order to improve her circumstances: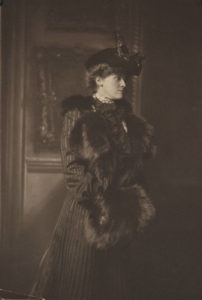 "Lily smiled at her classification of her friends. How different they had seemed to her a few hours ago! Then they had symbolized what she was gaining, now they stood for what she was giving up. That very afternoon they had seemed full of brilliant qualities; now she saw that they were merely dull in a loud way. Under the glitter of their opportunities she saw the poverty of their achievement. It was not that she wanted them to be more disinterested; but she would have liked them to be more picturesque. And she had a shamed recollection of the way in which, a few hours since, she had felt the centripetal force of their standards. She closed her eyes an instant, and the vacuous routine of the life she had chosen stretched before her like a long white road without dip or turning: it was true she was to roll over it in a carriage instead of trudging it on foot, but sometimes the pedestrian enjoys the diversion of a short cut which is denied to those on wheels."
Similarly, in researching my new historical mystery, The Beauty Doctor, I really enjoyed reading the actual account of Victorian-era journalist Nellie Bly's undercover journey into the world of the "insane."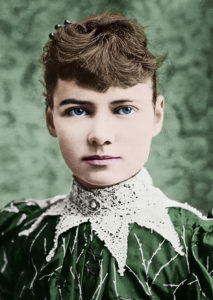 Her story originally appeared as a series of articles in the newspaper, New York World, and soon after was published as a book (1887) entitled Ten Days in a Mad-House. Not only did I find the grisly account of her time in Blackwell's Island Insane Asylum utterly fascinating, but I loved being able to see exactly how a female journalist of that time and place would write—the language she used as well as her observations, thoughts and moral sense.
"If I did get into the asylum, which I hardly hoped to do, I had no idea that my experiences would contain aught else than a simple tale of life in an asylum. That such an institution could be mismanaged, and that cruelties could exist 'neath its roof, I did not deem possible. I always had a desire to know asylum life more thoroughly—a desire to be convinced that the most helpless of God's creatures, the insane, were cared for kindly and properly. The many stories I had read of abuses in such institutions I had regarded as wildly exaggerated or else romances, yet there was a latent desire to know positively."
Other classics that I have recently rediscovered and particularly enjoyed include Strange Case of Dr. Jekyl and Mr. Hyde, by Robert Lewis Stevenson, published in 1886; The Time Machine by H.G. Wells, published in 1895 and The Island of Dr. Moreau, also by H.G. Wells, published in 1896; and Frankenstein by Mary Shelley, published in 1818. I found in all these wonderful novels a great deal of relevance to my own story, The Beauty Doctor, set in 1907 in New York.
There is so much to be learned from the great classic authors whose work never goes out of style!   
Photograph of author Edith Wharton, 1907, taken in Newport, Rhode Island. Image courtesy of the Beinecke Rare Book & Manuscript Library, Yale University. Hand-colored image of Nellie Bly ca. 1890 on Wikimedia Commons.
Sign up now to receive my blog posts.
Buy my historical mystery/suspense novel, The Beauty Doctor!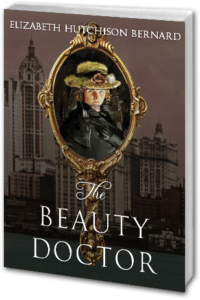 In the spring of 1907, Abigail Platford finds herself unexpectedly adrift in New York City. Penniless and full of self-doubt, she has abandoned her dream of someday attending medical school and becoming a doctor like her late father. Instead, she takes a minor position in the office of Dr. Franklin Rome, hoping at least to maintain contact with the world of medicine that fascinates her. She soon learns that the handsome and sophisticated Dr. Rome is one of a rare new breed of so-called beauty doctors who chisel noses, pin back ears, trim eyelids and inject wrinkles with paraffin. At first skeptical, she begins to open her mind, and then her heart, to Dr. Rome. But when his partnership with an eccentric collector of human oddities raises troubling questions, Abigail becomes ensnared in a web of treachery that challenges her most cherished beliefs about a doctor's sacred duty and threatens to destroy all she loves.