The Allure of the "Gibson Girl"
Who was the iconic Gibson Girl, making her debut at the turn of the nineteenth century, and what was her significance to Edwardian times? According to her creator, artist Charles Dana Gibson (1867-1944), the Gibson Girl was not any one individual but, rather, a composite of the all-American girl/woman.  Undeniably, her impact on society in the early 1900s was significant.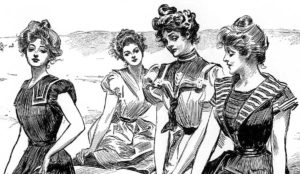 The Gibson Girl began as a pen and ink drawing composed in the 1890s, and she ultimately became a ubiquitous presence, widely accepted around the world as symbolic of the new American woman.  She was, of course, always beautiful and chic—no matter what she was doing or with whom she was doing it. But that was the point. The Gibson Girl could be tall, strong, sporty, spirited, and independent without losing one ounce of her feminine allure. Her hourglass figure, her perfect chignon of upswept curls, her fashionable attire, her self-confident and slightly mysterious smile—all of this served to make her the symbol of women's new freedom and their potential power in society. The mild arrogance of the Gibson Girl even made it possible to imagine a world in which men were at a woman's beck and call—to be controlled, not obeyed! But because the Gibson Girl was, above all else, well-bred—though perhaps not in the traditional sense of the word—she could be presumed to know what limits to exert on her own power!
In my historical novel, The Beauty Doctor, two of the characters make reference to the Gibson Girl. The eccentric inventor, Joe Radcliff, compares Abigail Platford, a young woman with aspirations to become a doctor, to the magazine image of a Gibson Girl—his intent being to show that he doesn't take her ambitions too seriously:
 "If Abby is really that tough," Joe interjected again, "I swear you'd never know it from looking at her. Why, that face is right off the cover of a magazine. Like one of those Gibson Girls."
 Abigail shifted in her chair. "I assure you that I look quite unglamorous dressed for surgery."
 "Well, it's a good thing. Otherwise, I don't know how Frank could keep his mind on his blade."
Beauty doctor Franklin Rome also mentions the Gibson Girl, when he attempts to explain to Abigail his concept of beauty:
 "I've made a great study of it, as you know, and I can tell you without a doubt that it is the mixture of different types that creates the most compelling beauty in a woman. That's why the Gibson Girl is so admired. She's a composite. The artist himself said she's the product of America's melting pot. She's unique."
It is true that Charles Gibson said about his Gibson Girl creations: "They are beyond question the loveliest of all their sex . . . The eventual American woman will be even more beautiful than the woman of today. Her claims to that distinction will result from a fine combination of the best points of all those many races which have helped to make our population."
Whatever one's opinion of the Gibson Girl—on the one hand, she was idolized, on the other many of her era criticized her for perpetuating an unrealistic image of womanhood—she made Charles Dana Gibson a household name and strongly influenced an entire generation of women.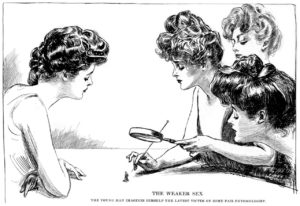 The artist, by the way, also created the Gibson Man, but the popularity of the male version never approached that of his female counterpart.
Is that him, perhaps, beneath the magnifying glass?
Thanks to Wikipedia for the quote from Charles Gibson (original reference: Marshall, Edward. "The Gibson Girl Analyzed by her Originator" appearing in The New York Times, Nov. 20, 1910). I want to acknowledge, too, the information at http://www.loyno.edu/~kchopin/new/women/gibsongirl.html. Both illustrations on this page are by Charles Dana Gibson, ca 1900. The Gibson Girl portrait on the main Style and Substance page is by Charles Dana Gibson, ca 1891.  All images were obtained from Wikimedia Commons.
Sign up now to receive my blog posts.
Buy my historical thriller, The Beauty Doctor, fiction finalist for the 2018 Eric Hoffer Book Award, 2017 AZ Literary Awards, and a 5-star pick by Readers' Favorite!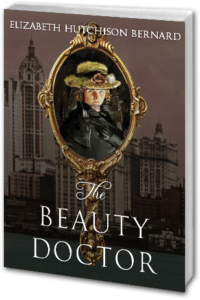 In the spring of 1907, Abigail Platford finds herself unexpectedly adrift in New York City. Penniless and full of self-doubt, she has abandoned her dream of someday attending medical school and becoming a doctor like her late father. Instead, she takes a minor position in the office of Dr. Franklin Rome, hoping at least to maintain contact with the world of medicine that fascinates her. She soon learns that the handsome and sophisticated Dr. Rome is one of a rare new breed of so-called beauty doctors who chisel noses, pin back ears, trim eyelids and inject wrinkles with paraffin. At first skeptical, she begins to open her mind, and then her heart, to Dr. Rome. But when his partnership with an eccentric collector of human oddities raises troubling questions, Abigail becomes ensnared in a web of treachery that challenges her most cherished beliefs about a doctor's sacred duty and threatens to destroy all she loves.