The Early Days of Women Doctors
My historical suspense novel, The Beauty Doctor, is the story of a young woman who, in 1907, dreams of becoming a doctor. But what was the likelihood of a woman actually entering the medical profession back in the days of corsets and Merry Widow hats?
Let's go back a bit further. In the mid-1800s, the term "female physician" was not by any means a professional title. It was used—and, generally, not in a complimentary way—to refer to untrained female abortionists. In fact, the only women in the medical field were self-taught practitioners.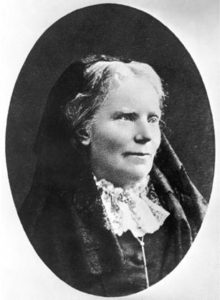 In 1849, Elizabeth Blackwell became the first woman to earn a medical degree in the United States. Fifty years later, by 1900, about 7000 women had broken the traditional barrier against females in medicine. By that time, in addition to the all-women medical schools there were a number of coeducational medical colleges at which women made up about 10% of the students. In some large cities, women might represent more than 15% of physicians.
Not that it was easy for women doctors. Read what was written—perhaps far too optimistically in light of what was soon to come—in the 1911 yearbook of the Woman's Medical College of Pennsylvania:
The militant spirit of the Association has not confined its efforts to our own school. Many hospitals have opened their doors to our graduates as interns through the indefatigable work of the Committee on Hospital Appointments.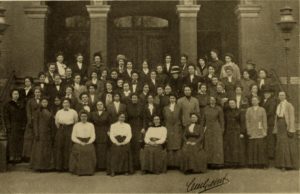 Some boards are still obdurate, objecting to women as such, because they have not yet learned better. A trustee of one hospital expressed himself as having no use for long-haired men or short-haired women. His objection surely does not hold now, for all in his category have disappeared from our College halls. Of the remainder of their exploits, much might be written. But this is unnecessary, for are not the monuments to their endeavors always with us? Far better now than retrospection is a resolve to turn the face forward to the task ahead, looking toward the day when not only a few, but all of our students shall make the most of the social, educational and professional advantages offered by our Alma Mater.
As you can gather, even women with comparable education to men often faced challenges in practice. The public generally was not ready to accept women physicians as equal to their male counterparts. Still, in the earliest years of the 20th century women seemed to be gaining in their struggle to establish themselves firmly within the ranks of the profession.
Then along came the Flexner Report of 1910.
This report, commissioned by the Carnegie Foundation, found that the quality of medical education across the country was inconsistent and, overall, horribly inadequate. A great many medical schools were little more than diploma mills, said Abraham Flexner. It was therefore recommended that the number of medical schools nationwide be drastically reduced—from 155 to 31. Flexner argued that ultimately this would increase the quality of medical care. The unfortunate result, over time, was the reversion of American universities to male-only admissions. Opportunities for women to study medicine diminished to virtually nothing. The number of women physicians declined precipitously, not to rise again until the 1960s—a terrible set-back but fortunately not a permanent one. Today, women represent more than 30% of practicing physicians in the United States and this year are expected to exceed 50% of physicians in Great Britain.
PHOTOGRAPHS:
Portrait of Elizabeth Blackwell, first woman to earn a medical degree in the United States. By Unknown photographer (National Library of Medicine) [Public domain], via Wikimedia Commons
From the 1911 yearbook of the Woman's Medical College of Pennsylvania. By Internet Archive Book Images [No restrictions], via Wikimedia Commons
Sign up now to receive my blog posts.
Buy my historical mystery/suspense novel, The Beauty Doctor!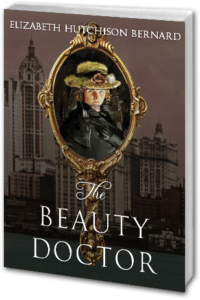 In the spring of 1907, Abigail Platford finds herself unexpectedly adrift in New York City. Penniless and full of self-doubt, she has abandoned her dream of someday attending medical school and becoming a doctor like her late father. Instead, she takes a minor position in the office of Dr. Franklin Rome, hoping at least to maintain contact with the world of medicine that fascinates her. She soon learns that the handsome and sophisticated Dr. Rome is one of a rare new breed of so-called beauty doctors who chisel noses, pin back ears, trim eyelids and inject wrinkles with paraffin. At first skeptical, she begins to open her mind, and then her heart, to Dr. Rome. But when his partnership with an eccentric collector of human oddities raises troubling questions, Abigail becomes ensnared in a web of treachery that challenges her most cherished beliefs about a doctor's sacred duty and threatens to destroy all she loves.