Fear of Wrinkles Not a New Phenomenon
A recent poll of 2000 women across the country found that fear of wrinkles is starting earlier these days. The study found that one in five women under the age of 25 admits to being concerned about signs of aging and, as a result, regularly uses anti-wrinkle products. But don't imagine that fear of wrinkles, and the search for an antidote, is strictly a modern phenomenon. Back in 1907—when my historical novel, The Beauty Doctor takes place—women might seek treatment with injections of paraffin in an effort to smooth their facial wrinkles. The formulas employed by beauty doctors of that era were highly variable; they might add to the paraffin other substances such as white oak bark or goose grease. There were often problems. Imagine placing a wax candle in the sun, and you can get some idea of what could happen! Not to mention infections, allergic reactions and just plain disappointing results. Of course, there were those who proposed other options. In the course of my research for The Beauty Doctor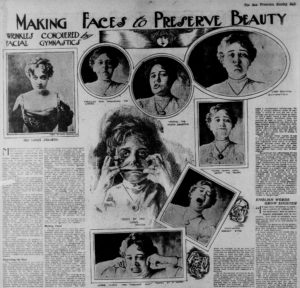 , I ran across this newspaper article from 1906 on facial exercise,"Making Faces to Preserve Beauty."  It's impossible to read the tiny text, but the photos say it all!  (Source for wrinkle study: Dermstore)
Sign up now to receive my blog posts.
Buy my historical thriller, The Beauty Doctor!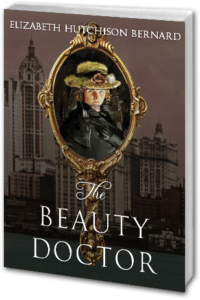 In the spring of 1907, Abigail Platford finds herself unexpectedly adrift in New York City. Penniless and full of self-doubt, she has abandoned her dream of someday attending medical school and becoming a doctor like her late father. Instead, she takes a minor position in the office of Dr. Franklin Rome, hoping at least to maintain contact with the world of medicine that fascinates her. She soon learns that the handsome and sophisticated Dr. Rome is one of a rare new breed of so-called beauty doctors who chisel noses, pin back ears, trim eyelids and inject wrinkles with paraffin. At first skeptical, she begins to open her mind, and then her heart, to Dr. Rome. But when his partnership to establish an Institute of Transformative Surgery with financial backing from an eccentric collector of "human oddities" raises troubling questions, Abigail becomes ensnared in a web of treachery that challenges her most cherished beliefs about a doctor's sacred duty and threatens to destroy all she loves.
AVAILABLE IN PAPERBACK, KINDLE and KINDLE UNLIMITED