Unbelievable Recording from 1912
Mike Bernard, a leading character in my new book, TEMPTATION RAG: A Novel, was one of the most famous musicians of the ragtime era. Classically trained, he eventually abandoned "serious music" to become a major headliner on the vaudeville stage. He was quoted in an article from the early 1900s as saying, "It's true that my original intention was to become a concert pianist, but then I gradually drifted into the line of work I'm doing now. And perhaps I am better off. Financially, at any rate." Existing accounts that cast light on his life and career suggest he was not particularly well-liked by his musical peers. As for his personal relationships—well, you'll have to read my book! But TEMPTATION RAG is not a biography; it's fiction. Neither is it one man's, or one woman's, story as much as a saga of human nature, the painful mistakes we make, and the ways we attempt to make peace with the past.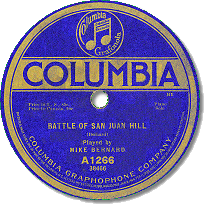 The recording I want to share with you now is really incredible! From the year 1912, Mike Bernard, Ragtime King of the World, playing his quirky composition "The Battle of San Juan Hill." It's like nothing you've ever heard… well, you'll recognize parts of it! I hope you'll enjoy listening. (Just click on the link to a page on my website where you can hear this authentic recording from the ragtime era.)
+++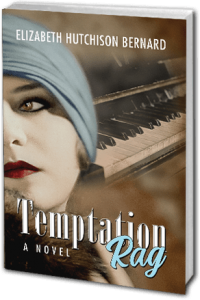 Seventeen-year-old May Convery, unhappy with her privileged life in turn-of-the-century New York City, dreams of becoming a poet. When she meets the talented young Mike Bernard, an aspiring concert pianist, she immediately falls in love. But after their secret liaison is discovered, neither is prepared for the far-reaching consequences that will haunt them for decades. As Mike abandons serious music to ruthlessly defend his hard-won title, Ragtime King of the World, May struggles to find her voice as an artist and a woman. It is not until years after their youthful romance, when they cross paths again, that they must finally confront the truth about themselves and each other. But is it too late?
The world of ragtime is the backdrop for a remarkable story about the price of freedom, the longing for immortality, and the human need to find forgiveness. From vaudeville's greatest stars to the geniuses of early black musical theater, an unforgettable cast of real-life characters populates this richly-fictionalized historical saga.
Available now for pre-order from book stores and online retailers. Release date December 3, 2018. Five-star rating from Readers' Favorite Book Reviews!