Real-Life Characters of TEMPTATION RAG: A NOVEL
Among the things readers seem to enjoy most about my new historical novel TEMPTATION RAG are the fictional characterizations of real-life people who inhabited the early 20th century world of ragtime in New York City. The original inspiration for the novel was the life of my husband's grandfather,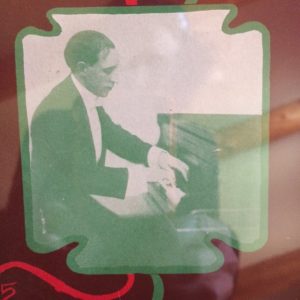 Mike Bernard, who won the title "Ragtime King of the World" in 1900. But as I went deep into my research on the cultural phenomenon of "ragtime," I became equally fascinated by the stories of other legendary musical figures of the era. It would be impossible, in fact, to tell Mike Bernard's story without also telling bits and pieces of theirs. Temptation Rag was never meant to be purely biographical—the liberal fictionalization of the story ensures that it is not—but the novel does include many fascinating and well-researched details of the ragtime era and the people who made it great. I recently began a series of posts on my Facebook page highlighting some of the real-life characters in the book. Here are the ones I've covered so far: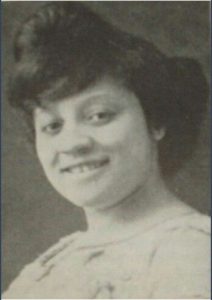 Abbie Mitchell was a brilliant soprano who, at a very young age, married African American composer Will Marion Cook and became an influential musical figure in her own right. Over the course of a long career, Mitchell starred in numerous African American musical theater productions in America as well as performing in Europe at the invitation of English and Russian royalty. On these overseas tours, she received rave reviews and was treated almost as royalty herself. In Temptation Rag, Abbie and the story's female lead, May Convery, form a close friendship which, while entirely invented, serves to introduce readers to this iconic figure in African American musical history. A brief but excellent summary of Abbie Mitchell's life appears at  BlackPast.org.
Ben Harney, born in 1872, grew up in a privileged family in Louisville, Kentucky, but chose the life of a traveling musician. He is credited with first popularizing ragtime music among white audiences, beginning with his debut in 1896 at Tony Pastor's vaudeville theater in New York City. Harney claimed to be the "originator of ragtime," though the genre's origin clearly is African-American.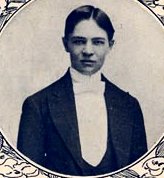 That claim, plus the distinctive dialect in which Harney sang his ragtime songs, sparked rumors that his ancestry was racially mixed. I like to think of Ben Harney as sort of the ragtime-era Bob Dylan. If you hear him sing, you'll understand why. In Temptation Rag, the rivalry between  Mike Bernard and Ben Harney plays a central role in the story. A brief biography of Ben Harney can be found on everipedia.org.
This dramatic-looking lady (right)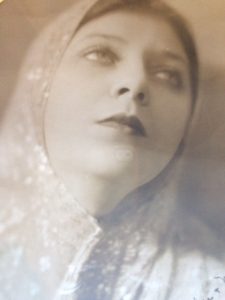 is another real-life character from Temptation Rag but one that history has overlooked. Dolly Zuckerman (aka Dolly King and Dolly Bernard) was originally from Syracuse, New York. She relocated with her family to Queens, New York, after her father lost his furniture business. The Zuckermans moved into a building owned by Dolly's aunt, living above a small candy store that her father ran during the day. Most likely, Dolly was 16 or 17 years old and already in the chorus line at the Ziegfeld Follies when she met Mike Bernard. In Temptation Rag, Mike is quite taken with Dolly's youthful innocence and sympathetic to her dream of a career on Broadway. For a time, he becomes somewhat of a "Svengali" to the aspiring young actress and singer. Dolly's true-life story is, in many ways, a tragic one. For the details, I'm afraid you'll have to read the book! But here is one more factoid: It is Dolly's photo (colorized and set against a "fictional" background) that graces the cover of Temptation Rag. She was quite a beauty—and, by the way, is my husband's grandmother!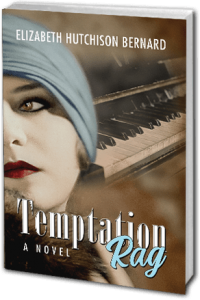 There are more faces and stories to be added to the gallery of real-life characters from Temptation Rag in the coming weeks. You can also listen to music from many of these legendary figures by visiting THE MUSIC page of my website at www.EHBernard.com.
About Temptation Rag: A Novel
Seventeen-year-old May Convery, unhappy with her privileged life in turn-of-the-century New York City, dreams of becoming a poet. When she meets the talented young Mike Bernard, an aspiring concert pianist, she immediately falls in love. But after their secret liaison is discovered, neither is prepared for the far-reaching consequences that will haunt them for decades. As Mike abandons serious music to ruthlessly defend his hard-won title, Ragtime King of the World, May struggles to find her voice as an artist and a woman. It is not until years after their youthful romance, when they cross paths again, that they must finally confront the truth about themselves and each other. But is it too late?
The world of ragtime is the backdrop for a remarkable story about the price of freedom, the longing for immortality, and the human need to find forgiveness. From vaudeville's greatest stars to the geniuses of early black musical theater, an unforgettable cast of real-life characters populates this richly-fictionalized historical saga.
Available from book stores and online book retailers. Five-star rating from Readers' Favorite Book Reviews!
Belong to a book club?
Temptation Rag includes a Reading Group Guide that can help add depth to your group discussions! Contact me if your club is interested in a free Skype interview with the author.