Kindle Countdown Deal Ends March 4, 11:59 pm!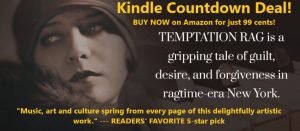 Kindle Countdown Deal ends Monday, March 4, 11:59 pm!
Don't miss out on your 99-cent e-book of Temptation Rag: A Novel by award-winning author of historical fiction Elizabeth Hutchison Bernard. (Regular price: $3.99)
HERE'S WHAT PEOPLE ARE SAYING ABOUT Temptation Rag:
"A gripping page-turner." SA Examiner
"An exciting, turbulent time comes alive in Elizabeth Hutchison Bernard's talented hands."–Megan Chance, bestselling author of Bone River
"An unforgettable and deeply human story."–Fredric Tulsky, Pulitzer Prize–winning journalist
"Bernard weaves a tale of real and fictional characters set during the rise and fall of ragtime. I enjoyed the story."–Historical Novels Review
"An impressive job of balancing fiction with history and biography."–The Chocolate Lady Book Review Blog
"The plot moved quickly, spiraling posthaste to its stunning conclusion. I couldn't put it down."–Living Beyond the Title Book Reviews
"So candid and alive it unfolds like a movie."–The Badass Writer Book Reviews
"A wonderful read." Next Book Around the Corner Book Reviews
"Bernard has a great way of setting the scene and making the reader feel like she is really there."–Passages to the Past Book Reviews
"A fascinating read."–Book Room Reviews
"A novel of love, loss, defiance, and ambition wrapped in musical flair."–PS Illustrated
"Every chapter was a new adventure."–Playing All the Way Book Reviews
"A richly satisfying and beautifully rendered tale."–The White Rhino Report
"Author Elizabeth Hutchison Bernard captures the style of the ragtime era. A delightfully artistic work."–Readers' Favorite Book Reviews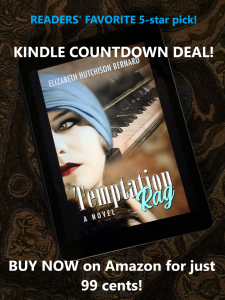 Belong to a book club?
Temptation Rag includes a Reading Group Guide that can help add depth to your group discussions! Contact me if your club is interested in a free Skype interview with the author.