TEMPTATION RAG: A NOVEL Launches
So excited about the launch on Monday, December 3, of my new historical novel, Temptation Rag! Many thanks to the advance readers and reviewers who have given it a resounding thumbs up. Here's what they're saying.
"An unusual, exciting and turbulent time comes alive in Elizabeth Hutchison Bernard's talented hands. Fascinating real-life characters make Temptation Rag an emotional and page-turning story of passion, ambition and desire."
—MEGAN CHANCE, bestselling author of Bone River and Inamorata

"The most striking thing about Temptation Rag: A Novel was the talented way in which author Elizabeth Hutchison Bernard captures the style of the ragtime era. Music, art and culture spring from every page of this delightfully artistic work."
—READERS' FAVORITE Book Review 

"Elizabeth Hutchison Bernard shows us through the life of Mike Bernard how and why the history of ragtime was re-written. This book allows readers to understand that cultural appropriation is all about racism. The suppression of African American musicians is very much a part of Temptation Rag…Recommended for people who want to know what life was like for women and minorities at the turn of the 20th century in the U.S., and for those who are interested in the history of music."
—FLYING-HIGH REVIEWS

"Temptation Rag is a gripping page-turner that has romance, history and music and is recommended for readers who appreciate a smart retelling of history through multiple points of view. It might even introduce some readers to the joyful sounds of ragtime." —SA EXAMINER Book Review

"The author's character development is fantastic. Her characters are honest and far from perfect, especially our male protagonist Mike Bernard. There were times throughout this book that I loved him . . . and then there were other times that I despised the man.  It says a lot about an author's writing when they can create that type of internal push and pull around a character's personality and life. It kept me reading late into the night . . . Fantastically written, a quick read, and an addicting page turner."—RAD BABES READ Book Review 

"May Convery, a wealthy New Yorker of the Victorian era, and Mike Bernard, an aspiring pianist of another class, cross paths and fall in love. The author gives us all the details of a country changing at the turn of the century and the people who encounter racism, corruption, and women's desire for the vote. It's a great literary history lesson and a captivating tale based on tremendous research and on family history. The poems of Paul Laurence Dunbar, a sensitive African-American writer of the era, are incorporated and add fluidity. A ground-breaking novel, and a story we haven't heard, that will leave the music of ragtime ringing in your ears!" —MARCIA FINE, award-winning author of Paper Children: An Immigrant's Legacy

"Terrific historical research and deft writing provide a striking portrait of racial and gender inequality in the ragtime era. An unforgettable and deeply human story."
—FREDRIC TULSKY, Pulitzer Prize–winning journalist and cofounder of Injustice Watch

"Ms. Bernard weaves her knowledge of music (both classical and ragtime) with true historical characters and fictionalized ones into a syncopated symphony of human drama. Through her deft use of character-specific dialogue and seamless descriptions of fashion and architecture, the author wields her literary baton in an efficient and impassioned manner, placing us comfortably (and for the 21st century reader, sometimes, uncomfortably) in the United States from 1895 to 1929. I recommend Temptation Rag for readers interested in the inner-workings of early 20th century America, historically popular music, and the human soul."
—KATHRYN WOOD, author of Sea Snow: the gentle haunting of a 19th century lighthouse
***
Seventeen-year-old May Convery, unhappy with her privileged life in turn-of-the-century New York City, dreams of becoming a poet. When she meets the talented young Mike Bernard, an aspiring concert pianist, she immediately falls in love. But after their secret liaison is discovered, neither is prepared for the far-reaching consequences that will haunt them for decades. As Mike abandons serious music to ruthlessly defend his hard-won title, Ragtime King of the World, May struggles to find her voice as an artist and a woman. It is not until years after their youthful romance, when they cross paths again, that they must finally confront the truth about themselves and each other. But is it too late?
The world of ragtime is the backdrop for a remarkable story about the price of freedom, the longing for immortality, and the human need to find forgiveness. From vaudeville's greatest stars to the geniuses of early black musical theater, an unforgettable cast of real-life characters populates this richly-fictionalized historical saga.
Available from book stores and online book retailers.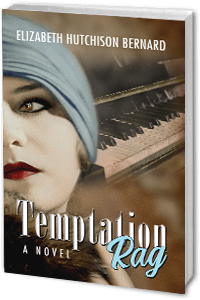 Release date December 3, 2018. Five-star rating from Readers' Favorite Book Reviews!