The Music of TEMPTATION RAG
This image is the original cover for the sheet music of the 1909 ragtime hit "Temptation Rag." I've been asked why I selected the name of this piece as the title for my book Temptation Rag: A Novel. In a way, it may seem an odd choice. After all, ragtime composer Mike Bernard is the major real-life character in my novel. From 1896-1925, he published many wonderful ragtime compositions—but "Temptation Rag" is not one of them. It was written by Thomas Henry Lodge and published by M. Witmark & Sons. The piece was, however, performed by Bernard as described in this actual newspaper clip (which is quoted in my novel) from the Chicago Daily Journal, August 23, 1910: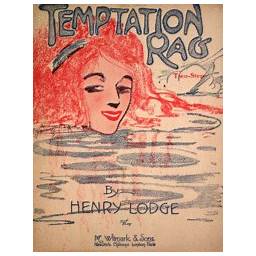 "Mike Bernard, the well-known ragtime pianist who is currently playing the fascinating Witmark number 'Temptation Rag,' gives a piano-playing exhibition that looks like an acrobatic sideshow and sounds like a speeding pianola. Bernard plays 'Temptation Rag' and Paderewski's masterpiece with the same elemental motive of force."
I love that review.  I'm sure Mike Bernard did as well, since he considered himself more or less in a class by himself among ragtime players. In fact, I am convinced that this particular review is exactly how Bernard would like to be remembered. That's the main reason I chose Temptation Rag as my title, though the idea of "temptation" in its myriad forms is also quite applicable to the story.
Bernard was a classically trained pianist who once aspired to the concert stage but settled, instead, for a life in show business.  He became a highly-paid headliner in vaudeville, traveled the country with top billing at all the big theaters, and, in 1900, won the title "Ragtime King of the World." When asked whether he regretted abandoning serious music, he said the following: "It's true that my original intention was to become a concert pianist, but then I gradually drifted into the line of work I'm doing now. And perhaps I am better off. Financially, at any rate."
Bernard did make a lot of money in his day. He also became the first solo ragtime pianist to record for Columbia Records. I have not found a recording of him playing "Temptation Rag," but you can listen to it, played by Cesare Poggi (from the album Piano Ragtime), by clicking the arrow below.
For more ragtime music from my novel, check out THE MUSIC.
What WATER FOR ELEPHANTS was to the circus, TEMPTATION RAG is to ragtime . . .
5-star pick from Readers' Favorite Book Reviews
What is the price of freedom? How do we leave a legacy? Can we ever forgive the unforgivable? A deeply human story of love, lies, and the power of music from the author of The Beauty Doctor, Finalist for the 2018 Eric Hoffer Book Award, 2017 AZ Literary Awards, and a Medallion Honoree of the Book Readers Appreciation Group.  
Seventeen-year-old May Convery, unhappy with her privileged life in turn-of-the-century New York City, dreams of becoming a poet. When she meets the poor but talented Mike Bernard, a young aspiring concert pianist, she immediately falls in love. But it's not long before Mike abandons May and his love for serious music to pursue a career in ragtime, soon winning the coveted title Ragtime King of the World.
Within the confines of an unhappy marriage arranged by her parents, May struggles to salvage her self-respect as a woman and an artist. After a chance encounter, she befriends Abbie Mitchell, a young African American soprano of extraordinary talent who is married to the tempestuous violinist and composer of ragtime operettas Will Marion Cook. Through May's unusual friendship with Abbie, she meets J. Rosamond Johnson, one of the most successful African American musical theater composers of the era. A relationship begins that will force May to confront the bitter realities of racism in America and, eventually, the shameful secret she has kept hidden for years.
Mike's life without May appears to be a success. He is the first solo ragtime pianist to record for Columbia Records and a top draw at every big theater in New York City. But that isn't enough. His rivalry with the charismatic Ben Harney, the self-proclaimed Originator of Ragtime, consumes him. It is only when Mike meets the naive young Ziegfeld girl Dolly Zuckerman that he starts to remember what it feels like to care about someone other than himself. But love is more fickle than he imagined, and so is the public. When his fans begin to tire of ragtime, quick to embrace the modern new music of jazz, Mike must grapple with the painful realization that he is yesterday's news. Bitter and alone, he finally faces the ultimate question of what, if anything, really matters. It is then, under the most uncomfortable of circumstances, that he and May happen to meet again, their unexpected contact rekindling confused emotions that have lain dormant for nearly thirty years. Can they make peace with the past that still haunts them? Or is it too late?
The world of ragtime is the backdrop for a remarkable story about the price of freedom, the longing for immortality, and the human need to find forgiveness, From vaudeville's greatest stars to the geniuses of early African American musical theater, an unforgettable cast of real-life characters populates this richly fictionalized historical saga.
Temptation Rag is available from Amazon and other book retailers.